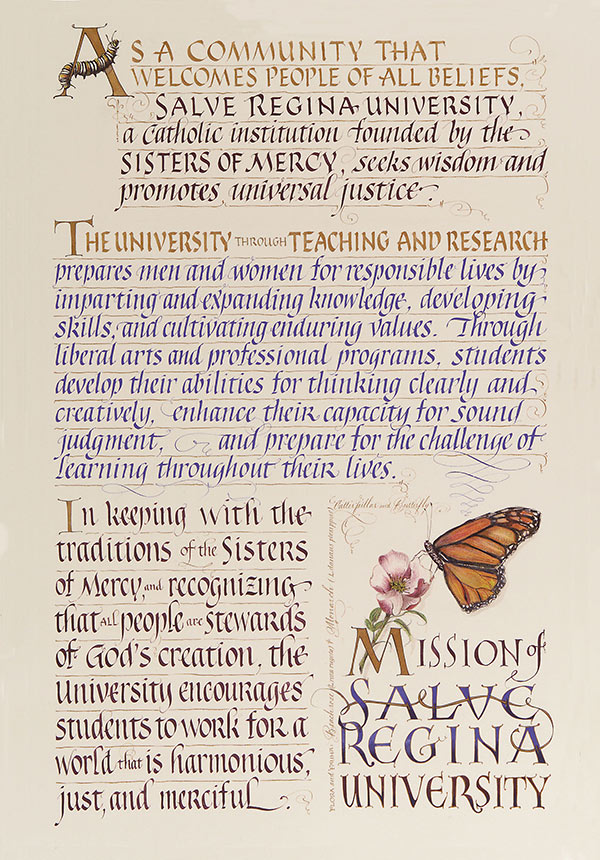 The Department of Counseling, Leadership, and Expressive Arts Mission:
The department programs in Counseling, Leadership, and Expressive Arts are designed to prepare professional counselors, leadership specialists, and expressive arts facilitators in alignment with the mission of the University. Our programs define integration and wholeness as an essential expression of personal and system well-being, compassion, and social justice.
Student Mission Effectiveness Statement:
As a student of Salve Regina University, I have chosen to join a community of learners who strive to work for a world that is harmonious, just and merciful. I pledge to uphold the University's mission and its standard of scholarship. In doing so I will:
Assume responsibility for my education by exercising personal and academic honesty.
Strive to become a lifelong learner and a responsible citizen of the world.
Promote mercy and justice by respecting the dignity and rights of all.
Recognize and learn to appreciate the unique giftedness of each person.
Aspire to grow in wisdom and spirituality.
In fulfilling this commitment, I expect to have an experience in higher education that uniquely marks me as a student and graduate of Salve Regina University.