Welcome to the Department of Counseling, Leadership, and Expressive Arts Blog!
We are honored to be a part of the educational process that develops skilled professionals in the fields of counseling, leadership, and the expressive arts. Graduate programs in our department help students hone the communication, critical thinking, interpersonal and problem-solving skills needed to successfully facilitate change, healing and self-discovery and to lead individuals, groups and larger organizations.
Our intention with this blog is to facilitate prospective student, current student, and alumni connection to the department.  Be assured that in addition to the information presented on this blog, members of our department and the university are available to assist, as needed.  Please call or email whenever you need a more personal touch.
Again, welcome!
Nancy Gordon, EdD
Chair, Counseling, Leadership, and Expressive Arts
Program Director, Leadership Dynamics and Practice
Faculty Directory:
Office of Holistic Graduate Programs:
Salve Regina University
162 Webster Street
Newport, RI 02840
Office Phone:
(401) 341-3179
Email:
[email protected]
Directions:
The Holistic Graduate Program office is located at 162 Webster Street (#10 on the campus map), which is a gray-green ranch-style house across the street from the Safety and Security Office (Tobin Hall) and next to Miley Hall – a large blond brick dormitory at the corner of Ochre Point Avenue and Webster Street.
Parking:
You may park on Lawrence Avenue (which is to the West just around the corner from our building), on Webster Street along the side of Ochre Court in the marked parking spaces, on Leroy Ave or on Ochre Point Avenue close to the Chapel or any of the areas highlighted in gray on the map.  Parking lots are used by permit holders only.  There is no parking on Webster Street directly in front of our building or in our driveway.
Feel free to call if you get lost or need help – We'll talk you in the right direction! (401) 341-3179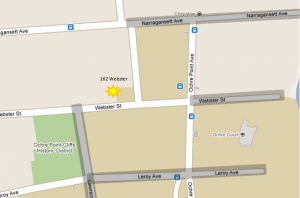 ---
Cover Photo Credit: Nikki Coulombe
http://www.nikkiartwork.com/zen-garden-series/
For Full Info on the University website:
https://salve.edu/counseling-leadership-expressive-arts